ANNOUNCING THE CA CREATIVE CORPS FELLOWS AT COMMUNITY PARTNERS
Community Partners is pleased to announce the 33 artists and culture bearers based in Los Angeles and Orange Counties who were selected to receive the California Arts Council's CA Creative Corps Fellowship. The year-long Fellowship takes place from July 7, 2023 – July 31, 2024, and includes a total grant of $100,000–$50,000 to support artists and culture bearers' living expenses and $50,000 for project costs.
CA Creative Corps Artist and Culture Bearer Fellowship at Community Partners was created to support artists and culture bearers of all disciplines and practices who live in and/or have a demonstrated history of working in relationship to a community identified within the lowest quartile of the California Healthy Places Index. Artists and culture bearers who were selected have often times had to work outside of arts and culture funding systems and have a history of working at the intersections of equity and social justice work in Los Angeles and Orange Counties. In particular, artists and culture bearers will address one of the four issue areas in their projects:
Public and Community Health Awareness and Content to Stop the Spread of Covid-19
Public and Community Awareness Related to Water and Energy Conservation, Climate Mitigation and Emergency Preparedness, Relief and Recovery
Civic Engagement Including Election Participation
Social Justice and Community Engagement
Community Partners received 93 applications, which were audited by staff and reviewed by a panel of regional artists and arts administrators to select the fellows. In addition to the cash award, the program supports its fellows by creating learning opportunities, matching mentors to assist fellows throughout the project as well as PR services to amplify their project and project issues.
The fellowships are funded by a generous grant from California Arts Council and administered by Community Partners.
CALIFORNIA CREATIVE CORPS FELLOWSHIP RECIPIENTS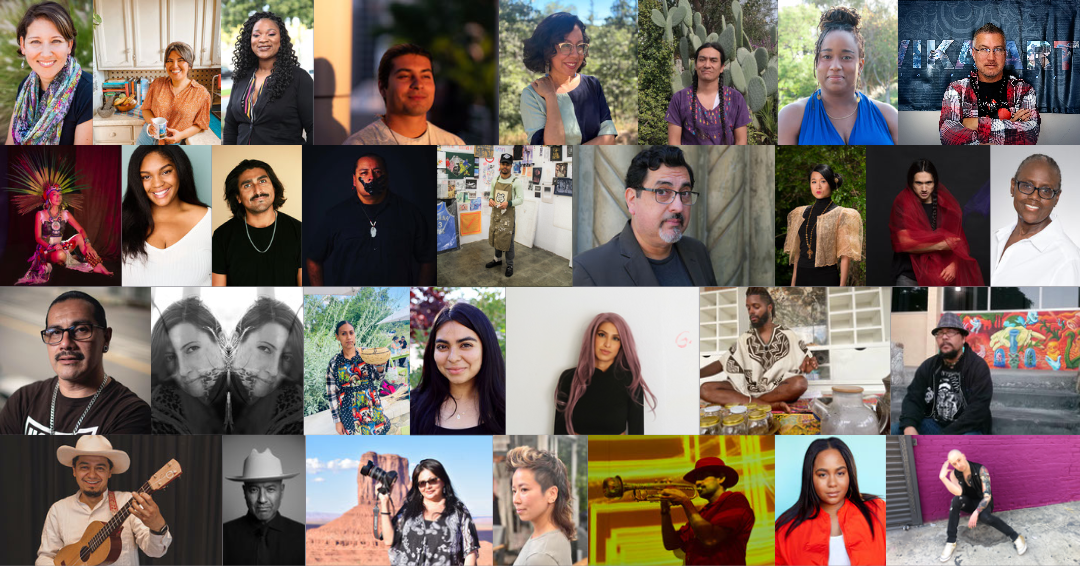 Jessa Calderon
Jessa Calderon is the Land, Water and Climate Justice Director for Sacred Places Institute for Indigenous Peoples. Jessa is a songwriter, published author, poet, hip hop artist, performer, basket weaver, paddler, hypnotherapist, massage therapist, energy worker and offers guided meditations. Jessa is also part of the Dream Warriors society and encourages our community and youth to find their healing mentally, physically, and spiritually by sharing her words, music and practices. Jessa has had the honor to work with community and youth from many Nations, helping them find themselves while helping them to feel good about themselves. IG: @jessa_songwriter1
Cesar Castro JAROCHELO
A professional musician in the Son Jarocho/ fandango tradition, a luthier and maestro. A strong bridge and connector between communities in the US and Veracruz Mexico for over 20 years via Radio Jarochelo a community-based podcast, now on public radio, and through organizing and promoting community cultural projects in the US and Mexico. He shares his love and knowledge of this tradition with people all over the US. Recently, while the world was on pandemic lock down, Cesar shared his teachings of the fandango to thousands of people around the world who are still watching his archived classes today. IG: @jarochelo
Cynthia Davis
Cynthia Davis was born and raised in Redlands, CA and is based in Los Angeles. She has a BA in Sociology from U.C. Santa Barbara, a BS in Biology from California State University San Bernardino, and an MPH from the School of Public Health at UCLA.  Since 1984, she has worked at Charles R. Drew University of Medicine and Science. Cynthia is also a renown doll maker and in 1998, created the Dolls of Hope Project to break the silence surrounding HIV/AIDS in communities of color. Cynthia has also curated and continues to be involved in Los Angeles' beloved Annual Black Doll Art Show at the William Grant Still Arts Center. Cynthia's Dolls of Hope Project has disseminated over 7,000 handmade cloth dolls to children affected by HIV/AIDS and she has traveled the world promoting the project. Website: https://www.cdrewu.edu/people/cynthia-davis
Fabian Debora
Fabian Debora was born in El Paso, Texas and began his career in 1995 as a member of the East Los Angeles Streetscapers. Mentored by many Chicano artists and muralists, Fabian has showcased his work in solo and group exhibitions throughout the US and abroad, including Santa Barbara, Los Angeles, Kansas City, Brooklyn, and throughout Latin America. For over a decade, Fabian has served as the Director of the Substance Abuse Program at Homeboy Industries, the Community Connection Director at Arts for Incarcerated Youth Network, Alliance of traditional Arts, artist for adult correctional facilities, and students throughout Boyle Heights. Fabian is the current Executive Director and Founder of Homeboy Art Academy. IG: @fabiandebora
Juan Escobedo
Juan Escobedo is an award-winning actor, director and photographer based in Long Beach, CA. He believes art, film and photography can serve as mediums to educate and heal families. For the past 20 years he's developed lasting relationships with families and nonprofits in Boyle Heights and East LA communities that have helped inform his work. Juan's OSCAR qualified short film Marisol was based on a true story about a family in East Los Angeles experiencing domestic violence and child abuse. The film was produced with the help of families and nonprofit health organizations from East LA. The script was eventually acquired by the OSCARS library in 2018. IG: @juanescobedo
Rene Fisher-Mims
Rene Fisher-Mims (Mama Nene) established S.H.I.N.E. MUWASI (in the hands of God), with an intent & purpose to spread the knowledge of West African Drum culture to women in her Los Angeles community. S.H.I.N.E. is an acronym for Sister's Healing, Inspiring, Nurturing, and Empowering in the Hands of God. With a vision of healing, empowering, caring, and inspiring women to play the instruments of their African descent, SHINE wishes to pass on the wisdom to those who desire to gain awareness of this culture through teaching and performing in different areas. Rene Fisher-Mims has worked with a number of local, community-based arts organizations and is one of the lead artist organizers and co-founders of the Festival of Masks in partnership with LA Commons. Mama Nene is a dancer, vocalist, hair stylist and master percussionist and has been a long-time drum instructor for The World Stage in Leimert Park Village. IG:@drumrene
Kai Hazelwood
Kai Hazelwood is a transdisciplinary artist, educator, event producer, and public speaker raising the profile of bi+/queer and BIPOC community issues through art projects, community events, writing and public speaking. Kai is co-founder and a lead facilitator of Practice Progress, a consultancy addressing structural, professional, and interpersonal white supremacy through body-based learning. She is currently a lecturer in the dance department at Chapman University teaching Modern technique through an anti-racist framework. Kai is also the founder and artistic director of Good Troublemakers, a practice driven arts collaborative celebrating plural-sexual/bi+ identities and centering BIPOC. Kai is currently the Executive Director of Pieter Performance Space. She travels between Los Angeles and Amsterdam NL to continue her work unraveling embodied white supremacy in Dance as an arts research fellow at DAS Graduate School. IG: @kaihazelwood @goodtroublemakers
Ireesh Lal
Ireesh Lal is a multi-instrumentalist and programmer who combines electronic music with East Indian elements alongside distinctly Western tones of the jazz trumpet to create a captivating new sound. Based in Venice, California, Lal sites Thievery Corporation, Miles Davis, and Ravi Shankar as influences. Built on top of brisk programmed grooves made irresistible with lush Eastern dimensions of tabla and sitar, Lal lays down commanding trumpet lines to convey the melodies, taking the lead amongst the cool, heady swirl of each tune. Over 100 College & Community radio stations across America added his music to their playlists. Latest album, Journey National Public Radio has featured his music on PRI's "The World". IG: @ireeshlal
Isaac Michael
Isaac Michael, a visual artist, and storyteller is Tongva, Chumash, and Xicano. Grounded in his ancestral cultivation, he utilizes film, photography, and poetry to amplify decolonization narratives and reclaim indigenous pedagogies. Through art, Isaac seeks to challenge the dominance of the human experience, instead honors the interconnectedness of all beings. He embraces the values of Indigenous Futurism to retell the past and present, envisioning a future guided by his community's stories, visions, and desires. As a steward of indigenous cultural conservation, Isaac Michael weaves together diverse mediums, crafting evocative narratives that honor his ancestral homelands and uplift his communities. IG: @ooxono_paar
Nikkolos Mohammed
Nikkolos Mohammed is from Los Angeles, CA and received his BFA with an emphasis in painting from Otis College of Art and Design in 2013. Nikkolos' artist practice reclaims hybrid identities through creating hybrid forms. He has exhibited in Los Angeles, New York, Chicago, and Berlin. In 2014, he and fellow artist Mike Reesé founded DREAMHAUS, a non-profit organization and multifaceted art collective that mobilizes visual arts for artists and low-income youth in South LA. Founded in 2014, Dreamhaus provides artists a platform to express themselves and give back to the community. With both our experience in working in the corporate sector as well as in the fine art community, Dreamhaus has assembled a truly unique view of fine art and public practice. IG: @honorablemohammed @dreamhausla
Marcela Montalvan
Marcela is a visual artist living in Los Angeles, CA. Through her art, she seeks to raise awareness of the urgent need for habitat and biodiversity preservation, as well as raise awareness for women's reproductive health particularly in communities that are most vulnerable to environmental degradation and have limited access to adequate healthcare. Her work is informed by her personal experiences growing up in a community that was disproportionately impacted by environmental pollution and the lack of access to quality healthcare. She is inspired by the intricate and delicate balance of ecosystems and aims to convey the urgency of taking action to preserve them. IG: @spiritofthetides
Jasmine Orpilla
Jasmine Orpilla is an internationally awarded Ilokana/x-American multivocal performance artist and operatic composer of sound installations carved by her lifelong study and ongoing practices of folk dance, combat systems, ancestral epic chant, and indigenous music of the Philippines. Jasmine Orpilla has the honor of performing alongside her Fil-Am community's culture bearers and mentors as a musical member of Pakaraguian Kulintang Ensemble. IG: @jasminemediumrare
Joe Galarza
Joe Galarza is a painter, muralist, sculptor, musician, instrument maker and arts educator who grew up in El Sereno, Los Angeles. Joe, whose indigenous name is Pepeyotl or One Who Gathers Medicine, has been using art as a decolonizing tool for over 25 years with the intention for social change and healing of his community. Joe works with youth at local community centers and correctional facilities and his goal is to bring self-determination and resources through the arts. Joe teaches at the University of Redlands and has a long history of working as an artist in residence with indigenous communities to create visual histories in the form of murals, including Tongva elders, members of the Pine Ridge Indian and Pinoleville Pomo Indian reservations. IG: @geneticwindsongs
Xochilt Garcia
Xochilt is a Mexican-American artist based in Littlerock, CA whose body of work combines traditional sci-fi art with a contemporary twist. Xochilt's work embodies vibrant concepts, cultural symbolism, and ambience that honors her filmmaking roots. Her vibrant and thought-provoking artwork speaks to the power of the phenomena known as "the butterfly effect". Xochilt's art is an exploration of identity, representation, and social change. IG: @theuguudesuuguu
Alma Guzman
Alma is a cultural worker and bookworm from Huntington Park. Her project, Libros con Alma, launched in 2021 as a book sharing initiative focused on giving free books by authors of color and books in Spanish to residents and friends of southeast Los Angeles. Alma is co-founder of the Southeast LA Collective and co-producer of the music series La Prueba in the City of Bell. For over 15 years, Alma worked as an arts administrator for organizations such as The Ford, DCA and JACCC, providing guidance and support to artists, cultural organizations, youth, seniors and families through funding and public programming opportunities. IG: @librosconalma/
Micah Huang
Micah is a musician, storyteller and community advocate whose work centers marginalized narratives through the integration of traditional practices such as spirit communication with cutting-edge technological tools and techniques. He has been engaged in performance projects commemorating the 1871 LA Chinatown Massacre since 2019, including the audio drama Blood on Gold Mountain (2021) which he wrote and produced. His 2022 NEA New Arts project American Dreams/Asian Nightmares addressed pandemic-related racial violence. Current projects include an audio special on Chinese Railroad Workers in the Old West, and a collaborative music & spoken word concert with the Gabrielino Shoshone Tribal Council. IG: @hungryghostnote/
Fernando Isaí
Fernando Isaí is a Zapotec artist from the Sierra Norte region of Oaxaca, based in Los Angeles, ancestral and unceded territory of the Gabrielino/Tongva peoples and the Fernandeño Tataviam Band of Mission Indians. Fernando's process uses language and photography to explore the imposed boundaries of the western world, to find new avenues of exploration of the self, mapping roots to and from process and concept. as an educator, Fernando believes in the ability of the arts to access and process emotion and ideas and the self. The arts are a fundamental part of building a better future for everyone. IG: @fernando_isai
Chantrell M. Lewis
Chantrell M. Lewis, M.F.A is a multi-hyphenate arts educator, published author, award-winning researcher, and artist. Lewis holds a Bachelor of Fine Arts degree from Kent State University and a Master of Fine Arts degree from The University of California, Irvine. She is a certified specialist in the social-emotional development of youth stamped by The University of California, Riverside. Lewis carefully designs and teaches programming and curriculum that emphasizes literacy and other skills in alignment with the state standards for visual and performing arts education. Lewis is dedicated to increasing accessibility to literacy, wellness, and the arts in under-resourced communities. IG: @channy.mo
Yaotl Mazahua
Yaotl Mazahua is Raramuri/Mazahua and holds a BA in Cultural Anthropology and an MSW and LCSW from CSUN. Yaotl considers himself an indigenous Artivist inspired by the Zapatista struggle in Chiapas. He continues healing and enlightenment through music and art. From punk rock to hip hop, to his indigenous roots as a basis for resilience, he survived gang activity and racial violence while sorting out and addressing the ongoing mental health challenges of colonialism. Music saved his life for the better, it inspired a commitment to wellness and decolonizing, he pays it forward by sharing perspectives via his musical endeavors. IG: @Yaotl1 @aztlanunderground
Larissa Nickel
Larissa Nickel is a contemporary artist, designer, educator, and curator based in Lancaster, CA, whose work explores the synthesis of architecture and the body, investigating identity, place, collective identity, memory, and the archive. A graduate of the University of California, Santa Barbara with a BA in Studio Art, and Johns Hopkins University with a MA in Museum Studies, she merges philosophy, art, design, and museology. Her work has been shown at the Armory Center for the Arts, California State University Northridge, the Los Angeles Municipal Art Gallery, the Lancaster Museum of Art and History, the Torrance Art Museum, and outside traditional galleries and museums. IG: @larissa.nickel
Victor Payan
Victor Payan is an award-winning artist, writer, arts administrator, and consultant based in Santa Ana, OC who organizes public events that promote understanding and community empowerment. He is Founding Director of Media Arts Santa Ana (MASA) and Co-Founder of the OC Film Fiesta multicultural film festival. His work includes video, performance, culture jamming and interdisciplinary interventions, and has been featured in exhibitions, screenings and performances throughout the US and internationally. His Practical Social Practice methodology use performance and transdisciplinary intervention approaches to effect long-term social change through public policy and the creation of civic systems, such as affordable housing for artists and arts funding. IG: @mondopayan
Pamela J. Peters
Pamela J. Peters is from the Navajo Nation, currently residing in Los Angeles, California.  As a Diné multimedia artist, Pamela endeavors to capture the essence of Native American culture through her work by utilizing still images, digital video, and words on a page to share those stories. Through distinctive digital storytelling, and compelling visual images, Pamela shapes an authentic Native American narrative in multi-dimensional ways to counter the historically narrow depictions of the Indigenous experience in America.  She refers to her creative work and storytelling as Indigenous Realism as it often situates contemporary Native narratives in a nostalgic historical environment. IG: @tachiiniiphotography
Kavika Pursley
Kavika Pursley is a gallery, concept artist, muralist, graphic designer, sculptor, haunter, VR developer, art director, and more. Some might say self-taught, but Kavika has many mentors and collaborators on this creative journey. His current artistic obsessions are Pacific Oceanic Arts, creepy art, performing live and murals. After years grinding away in the video game art industry for many years, Kavika is looking for other options. Generally, Kavika Pursley is just looking to make stuff that makes people happy and the world a better place and Community Partner's Creative Corps is giving that exact opportunity. IG: @artistkavika
Jeniffer Sanchez
Jeniffer Sanchez is a Los Angeles-based artist, danzante, choreographer, director and producer. Her mission is to preserve the living tradition of Danza Azteca by creating elevated experiences through live performances, film/video, music, light and technology. Her work operates at the intersection of performance art, multimedia theater and Mesoamerican dance tradition. Experienced in satire and multimedia theater since 1996, she has been commissioned to create original performance including for the Alaska Native Heritage Center, Hollywood Forever Cemetery and Culture Clash. Sanchez's current project is Danza Divina de Los Angeles, a Danza Azteca troupe based at Plaza de la Raza and recently produced and directed a multimedia Danza performance celebrating Mexica New Year titled LA Ofrenda at the Margo Albert Theater. IG: @la_juanifera
Evelyn Hum Serrano
Evelyn Hum Serrano is the grateful mother to Daniel Eliseo and daughter of Madeleine Suarez and Evelio Serrano. Born of the soil, the historias, and the sea of the island of Cuba, Hum is a Sunland-Tuxuunga-based multidisciplinary immigrant artist, educator, organizer and seedkeeper.  She works at the intersection of creative placemaking, memory, community engagement, and action towards freedom. Her inquiries inhabit in-between spaces of possibility, queer abolitionist futures, the collective gathering and planting of seeds, and the healing of our relationship with the land and our more than human relatives guided by Indigenous wisdom. IG: @sunlandtujungaforward
Karla Tatiana Vasquez
Karla Tatiana Vasquez is a passionate advocate for Salvadoran cuisine education and documentation. Based in Los Angeles, she is a food writer. She has contributed to publications such as The Los Angeles Times, The San Francisco Chronicle, Eater LA, Food & Wine, Serious Eats, and Buzzfeed Tasty. In 2015, she founded SalviSoul, a Salvadoran cookbook storytelling project aimed at preserving family recipes, cultural memory, and fostering intergenerational healing. SalviSoul is a dedicated food platform offering online cooking classes, events, and an eagerly anticipated cookbook slated for release in Spring 2024 by Ten Speed Press, a subsidiary of Penguin Random House. IG: @salvisoul
VATTICA
VATTICA represents part of the new wave of alternative rock; inspired by the authentic energy of the iconic, guitar-driven bands of the 90s and re-imagined through the pop sensibilities and polarizing sociopolitical landscape of today. From their home base in Los Angeles, VATTICA creates their own style of anthemic music (dubbed Queerternative), evocative viral videos, and energetic live performances for everyone hoping for and working towards a better tomorrow for their communities and our world. VATTICA is led by singer/multi-instrumentalist/songwriter Alexander Millar (they/them), a nonbinary queer activist. IG: @vattica  
Dr. Giavanni Washington
Dr. Giavanni Washington is a culture bearer who lives in the intersections of a diasporic reality. Called to the medicine of ancestral restoration, her work creates healing opportunities for other diasporans to reconnect with lost histories and ignite obscured ancestral wisdom.  Dedicated to amplifying Black Beauty, reconnecting to the deep roots of Black Divinity & encouraging the full expression of Black Joy, Dr Giavanni created the Black Goddess Within Oracle Decks, the only decks to feature real Black Women as Goddesses from Africa. Dr. G, as she is affectionately known, is a mother, Council holder and healer. IG: @blackgoddesswithin
Jasmine Williams
Jasmine is from South Central Los Angeles and is the Executive Director/Producer of Da Poetry Lounge Co. She holds 15 years of residencies that provide equitable creative education to imprisoned and at-risk young adults with non-profit organizations. She has created works featured on FOX, HBO, PBS, & Facebook just to name a few. Jasmine creates to amplify the voices of those brave enough to be heard. She loves mint chocolate chip ice cream, and on her time off she is a UNO champion, a VIP member of Twilight #TeamEdward, before falling asleep to episodes of Hey Arnold or The Office. IG: @jrwilliams33
Kim Ye
Kim Ye (b. 1984, Beijing, China) is a Chinese American multi-disciplinary artist whose research-based practice engages gendered constructions around power, and the entanglement between public space and private desire. She received her MFA from University of California, Los Angeles (2012); and BA from Pomona College in Claremont, California (2007). She has worked professionally as a dominatrix since 2011 and has been on the board of Sex Workers Outreach Project Los Angeles (SWOPLA) since 2019. Ye currently teaches in the Photo & Media department at California Institute of the Arts and co-hosts Boundary Issues on KChung Radio. IG: @kimyekimyekimye
Yohaun
Yohaun is an Inglewood native and herbal enthusiast on a mission to educate community on the healing powers of herbs, curate intimate herbal experiences and create bespoke blends with purpose especially for BIPOC + Queer folx. His offerings seek to build trust and establish consistent self-care through the practice of herbal alchemy. His teachings are rooted in the belief that we, as individuals, are the most qualified curators of our wellness. Through individual devotion and collective fellowship, Yohaun believes that an intentional relationship with herbs can enrich our journeys to wholeness. IG: @yayahwatztea
Ashley Zachary
Ashley Zachary is a multifaceted artist based in Long Beach and known for her diverse talents as an actor, producer, and founder of a nonprofit organization dedicated to promoting underrepresented artists. Ashley established her own company, A2theZshow, with a mission to empower and uplift creatives. While her true passion lies in acting, she has also embraced filmmaking and storytelling as means of earning a living. She loves being in front of the camera as well as behind the scenes and creates short films where she not only acts but also showcases her other artistic abilities, allowing her to fully express herself. IG: @a2thezshow
Alex Zamora
Alex Zamora is a visual artist proudly born and raised in South East Los Angeles. His practice focuses on community engagement through education.  Alex and his creative business partner Anjelica Saucedo co-run free monthly photography workshops under the name FotoLab Workshops the South. This program provides access to various resources such as models, cameras, studio lighting equipment and guidance in the southeast LA area at no charge. Alex's newest project is a zine published quarterly called X-RAY Magazine. The first issue came out April 15, 2023, and features interviews, poetry, and photography by local LA artists. IG: @zamoravisuals
Community Partners is proud to be an Administrative Organizational partner for The California Creative Corps program and is committed to inclusive and accessible information and experiences with specific attention paid to individuals living with a disability and those whose first language is not English. For inquiries about accessibility or to request this or any other publication in another language, please contact us at cacreativecorps@communitypartners.org
Number of Awards: 33
Fellowship Grant: $50,000
Project Budgets: Up to $50,000
Total Grant Award: Up to $100,000
Understanding the invaluable role that artists and culture bearers play in equity and social justice movements, California Arts Council, in partnership with Community Partners, is launching California Creative Corps—an artist and culture bearer fellowship, learning and mentorship initiative supporting artists and culture bearers of all disciplines and cultural practices working at the intersections of equity and social justice work.  
The program focuses on the on the following issue areas:   
Public and Community Health Awareness and Content to Stop the Spread of Covid-19: The COVID-19 pandemic has forever changed our dialogue about health equity. In addition to direct ways that communities can protect themselves from the spread of COVID-19, such as mask use, vaccinations, and safe distancing, we expand the idea of community health awareness to include related, but rarely talked about health impacts of COVID-19 including mental health and wellness, the compounding stress on our healthcare systems and workers, health inequities that impact adjacent health crises such as care and accessibility for those in our disability communities, diabetes, heart disease, and sexually transmitted diseases. 

 
Public and Community Awareness Related to Water and Energy Conservation, Climate Mitigation and Emergency Preparedness, Relief and Recovery: Communities located in the lowest quartile of the Healthy Places Index have been and continue to be some of the most impacted by generational climate and environmental injustices. We also know that members of these communities have a long history of land, water and energy conservation practiced in ways that reflect centuries-long proven strategies. Addressing community awareness around conservation, mitigation and emergency preparedness, relief and recovery requires a culture shift that educates and connects communities. 

 
Civic Engagement including Election Participation: People who participate in the arts are more likely to participate in civic engagement actions. Generally defined, civic engagement is participating in and contributing to the improvement of one's community, neighborhood, or country through both political and non-political processes. Civic engagement, as distinct from community engagement, can drive our democratic participation through organizing, advocating, voting, volunteering, and other types of social actions.  How can arts and cultural practices increase and drive civic engagement to address severe inequities that our communities face? 

 
Social Justice and Community Engagement: In addition to known concepts and approaches to social justice and equity, we expand these ideas to include cultural equity, which acknowledges that not everyone has been included equally or given a fair shot at the opportunities that exist within arts systems, including funding and support mechanisms. We understand that many artists and culture bearers who live and/or work in the identified lowest quartiles of the Healthy Places Index have historically been and continue to be excluded, under-resourced and overlooked within our arts and culture sector. 

 
Community Partners is working through an equity lens, prioritizing artists who are living and/or have a history of working in census tracts within Los Angeles County or Orange County that have been identified in the lowest quartile of the California Healthy Places Index (HPI). The California HPI is a powerful tool to explore the community conditions that impact life expectancy.  
Applicants are required to implement the CA Creative Corps fellowship within this identified geographic community. To find out if you or your community is located within the lowest quartile (25%) of the Healthy Places Index, click here: HPI_CC_Eligibility. 
Important Notes When Using the HPI CC Eligibility Tool: 
Type in your exact address or an exact address associated with your project/community. 

Do not cut and paste. Do not click enter.

 

A series of possible addresses will appear in a drop-down list, 

do not click enter

. Choose from the drop-down list and select the correct address from that list to search.

 

P.O. Boxes are ineligible.

 
Inaccurate designations may result if you: 
Copy and paste your address.

 

Use the "enter" key to search for your address.

 
You will receive a result that indicates whether you are eligible for this opportunity. For more information on the CA Healthy Places Index, click here.  
Artists: Artists are individuals who regularly engage in artistic or cultural practices and have had specialized training in any artistic discipline or cultural practice. (No degree is required.) Artists are recognized as professionals by their peers and have a history of sharing work in community, public presentation or sharing online and/or through some form of publication. This opportunity is for artists who have a history of collaboration with communities or social practice that lends itself to some type of social impact.  
Culture Bearers: Culture Bearers are from the cultural/heritage lineage they practice and advance intergenerational lifeways, evolving cultural art practices that educate, exchange, and share to preserve ancestral knowledge. Culture Bearers' art forms and traditions include healing practices that connect to earth and to others and might include healers, storytellers, dancers, makers (instruments, print, textiles, mixed media), language keepers, drummers, culinary practitioners and more. Culture Bearers accept a responsibility to share ancestral and cultural knowledge. A Culture Bearer is distinct from other individual artists because their practice is a full life tradition (not separate) and includes intergenerational transmission of learning. (Definition courtesy of the Indigenous Roots Cultural Art Center) 
Artists and culture bearers who best represent the following experiences will be considered: 
Individuals working outside of existing arts, culture, and funding systems, such as commissions/exhibitions by institutions and/or commercial relationships. (i.e., talent agency or gallery representation, grant programs, fellowships, or other awards.)

 
Individuals with a history of collaborative, community-informed and led processes and practices.




Individuals with a clear vision of how artistic and cultural practices catalyze or advance change.

Individuals with ideas that lend themselves to the development of an issue-based problem statement and how change happens at the individual, community, and systemic levels.

 
PLEASE NOTE: Projects do not have to be fully conceptualized at the time of the application. If selected, artists and culture bearers will be paired with artist-mentors who will assist fellows in the first 60- days with establishing a detailed project plan and budget. 
Artists and culture bearers may propose new or existing concepts and/or projects that address one or more of the four issue areas and must show or propose working with a non-profit organization. Examples might include a muralist working in community to design and install a mural to communicate messaging around one of the issue areas, or a project that engages community through a festival focused on water and conservation ideas, interactive activities, and performance.  
Projects must be informed by: 
Creative approaches to problem solving that meet community where it is at. Identifying and using effective, if not tangible expressions such as song, dance, drama, skills, cuisine, crafts, and festivals. 

 

Existing relationships to community(ies) impacted and collaborative decision-making between the artist or culture bearer and those most impacted.

 

Integrating storytelling by those most impacted by the issue (first voice narrative)

 

Identifying and using effective, if not tangible, expressions such as song, music, dance, drama, skills, cuisine, crafts, and festivals. 

 
Must be at least 18 years of age.
Live and work in Los Angeles County or Orange County.
Live and/or have a history of working in relationship to an identified community located within a census tract scoring within the lowest quartile of the Healthy Places Index.
Have a history of working at the intersections of art, culture and social justice/community work.
Have a history of artistic practice and cultural work.
Commit to attend all in person and/or virtual cohort convenings.
PLEASE NOTE: You must use Google Chrome to properly access this application.
Applicants will need to create a Submittable account to apply and will need to upload required documentation via Community Partners' online grant portal which can be found by clicking here.  beginning April 14, 2023, 9 AM PST.
Applicants will be able to craft proposed project answers via written text, video, or audio submissions.
Community Partners staff will be available to offer guidance and clarification in preparing your proposal. We will also be offering live group technical assistance sessions, a recorded info session, and office hours to help answer questions, provide support and encouragement, and assist throughout the application process.
Technical Review for Eligibility: Applications will be subject to a technical review process by Community Partners, which will screen for eligibility and completion of all applications.

 
Panel Review: Eligible applications will be evaluated, reviewed, and scored by a combination of artist peers and Community Partners' staff review panel. Community Partners is committed to diverse and inclusive practices and the panel will include an array of diverse geographies, disciplines, identities, and lived experiences.

 
Use Google Chrome to properly access the application

You can do this!

Register for a workshop or work-in!

 

Make sure you meet all eligibility requirements including holding the date for the cohort's first convening on July 7, 2023, if selected.

 

Give yourself enough time to apply, including reviewing the guidelines, filling out the application, and answering the narrative prompts.

 

Proofread your application for completion, including answering all questions and uploading any required materials, before clicking "Submit."

 

Connect with your peers and community to ask for feedback and stay up to date on pressing issues in your field and community.

 

Grant writing is a buildable skill – save your responses and apply to more opportunities!