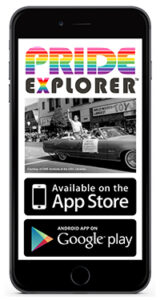 June issues in a month of LGBTQ Pride – marches, festivals, and the recognition of the history, contributions and continuing challenges faced by people in these often marginalized communities. At Community Partners, we're proud to be supporting several projects and partnerships working to pave the way for greater equality and understanding of LGBTQ people. Here's a look at what's happening with some of them this month:
In their continuing efforts to advance the future of LGBTQ heritage and culture, The Lavender Effect has launched its very own LGBTQ-history themed walking tour app. Called Pride Explorer, the app guides users on interactive walking tours around LA. It kicks off with its first journey, a new look at Hollywood history called "LGBTinsel Town, which moves from the Hollywood Roosevelt Hotel, along the famed boulevard, arriving at the renowned intersection at Hollywood and Vine.
"Our goal in creating this first-of-a-kind app was to offer something both educational and entertaining," said project leader Andy Sacher. "It was created with both locals and tourists in mind – everyone can learn something new about LA's now uncloseted history."
For eight years, the Latino Equality Alliance (LEA) has promoted liberty, equality and justice for the Latinx LGBTQ communities through a strong focus on family acceptance, LGBTQ equality and immigration reform. In honor of Pride Month, LEA hosted its second annual "Purple Lily Awards." The event honors unsung community leaders who dedicated their passion and time to LEA when the communities they serve were most in need. This year's honorees are Gizella Czene of Parents and Friends of Lesbians and Gays, Mario Ceballos of ¡Que Viva! and HONOR PAC and Al Ballesteros of Adelante Magazine and JWCH. The ceremony is particularly meaningful in light of the changing policies around immigration and the fear that imposes on these communities.
"This event is a time to highlight the work that's being done and the work that still needs to be done," said LEA's advisory board president Ari Gutierrez. "This is a time to recharge, not retire."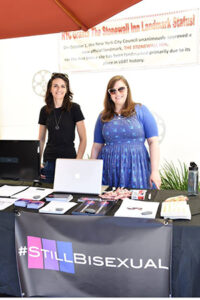 #StillBisexual, one of our newer projects,  addresses the lack of support and dismissal of bisexuality from both the LGBTQ and heterosexual communities through an online awareness campaign. Project leader Nicole Kristal has made it her mission to address misconceptions about bisexuality and close the gap in acceptance within the larger LGBTQ community.
"What makes me the proudest is that a resource now exists online for bisexuals who cannot find acceptance at their local gay bar or college LGBTQ group. They can watch other bisexuals who are experiencing biphobia talk about their struggles and how they overcame them to reach self-acceptance and find love," she said. "And that's something that would have really helped my own mental health as a bi youth."
And also this month, the Los Angeles County Department of Public Health (DPH), with the support of Community Partners and Southern California Grantmakers will address the need to bring greater diversity to its ongoing efforts to build community resilience across the county. Funders, civic leaders and nonprofit organizations will convene with 25 LA County-based LGBTQ leaders of color to learn about the role community allies can play to support LGBTQ communities of color in times of need. Since 2002, Community Partners has supported the Los Angeles County DPH in building and fostering community resilience in the county.
---
Support Community Partners or one of our sponsored organizations.
Donate