It's 13 days before the San Gabriel Valley plays host to what may be the most ambitious open streets event in the country and Wes Reutimann is understandably feeling slammed. "It's definitely been the most difficult project of my professional career," says the director of BikeSGV, the lead organizer of the upcoming event.
Two years in the planning, the 626 Golden Streets event, set for June 26, will open up 17 miles of San Gabriel Valley streets to people traffic — bicyclists, pedestrians and skaters – making it potentially the longest open streets route yet. The event required the coordination of seven San Gabriel Valley cities and one jurisdiction. Safety meetings have included officers from 16 different police and fire agencies. Three nonprofit organizations have been directly involved with planning and coordination, and several others are in charge of arts programming and other events to liven the day. "It's been incredibly complex to coordinate," Reutimann observed.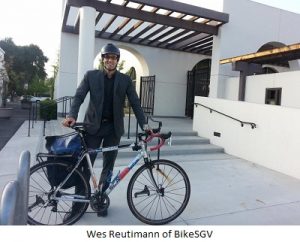 It's an impressive feat for an organization that formed just six years ago, starting out as a loose, all-volunteer network of residents and community activists who wanted to better advance active transportation in the San Gabriel Valley. Now in its third year under fiscal sponsorship with Community Partners, BikeSGV is hitting its stride. Strategic planning and successful fund development have made additional staff possible. Beyond the work involved in planning the Golden Streets event, the group continues to host its monthly Bike Train community rides and is ramping up operations at its El Monte Bicycle Education Center. There, anyone can come in and learn to fix or build their own bike. There's even a 'build a bike/earn a bike program' a more affordable route to bike ownership. In the long-term, they are helping to lead the way toward a bicycle 'superhighway' connecting metro stations and communities to a regional network of protected pathways certain to transform the area.
To what does Reutimann credit the organization's success? "If you want to effect real change, you can't do it alone," he said, pointing to the organization's well-connected advisory board, strong committed staff, and emphasis on cultivating relationships with residents, government representatives and others. "We couldn't do this without our champions."
The hope for the Golden Streets event is that it will serve as inspiration to visitors, residents, civic leaders and others. Reutimann and his team and their partners hope to introduce people to the Gold Line, to the possibility of cycling to their local stations, and to encourage more open streets events. They also want people to have a good time. "There is so much joy when folks are out at these events, walking and biking on streets with no cars – you can't put a price on that. After two years of work, I know it will all be worth it."
---
Support Community Partners or one of our sponsored organizations.
Donate