What does it mean to be an engaged citizen in 2017? That's the vision behind Changeist, a project that encourages youth ages 11-26 to move beyond traditional ideas about citizenship and community service. Bringing young people together from different backgrounds, cultures, and zip codes is something executive director Mario Fedelin feels strongly about.
"We're trying to bring people together to do better for our neighbors. It's not about trying to save black kids or brown kids. Society needs to stray away from that mentality of having to be served if you're poor or having to volunteer if you have means so that you can feel really good about yourself. Big Citizen Hub joins young people with means and those without to perform service activities because that will change the world."
The program partners with Los Angeles schools by engaging with counselors and teachers to develop an outreach plan. Fedelin visits homerooms, clubs and students who have been nominated by their teachers to participate. His pitch: "This is not an intervention. Kids that join this program are not bad kids, we're not trying to fix you. We're looking for people who want to change certain things that they see. If you think that you can change the world, this may be the place for you." And the response has been excellent.This year 170 middle and high school students from 43 different zip codes in Los Angeles spent 22 Saturdays performing service activities on behalf of causes that moved them. This kind of response has been evident since Changeist's beginnings in 2014; it only took one month of recruiting to enroll their first class of 75 students. "The one concept that I can always count on is that kids' today have a profound desire to do something that can make a difference," says Fedelin.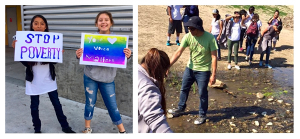 Once Big Citizens apply and are assigned to their teams in the program, they decide which issues in their communities they'd like to tackle and lean on Fedelin and staff for logistical support. Some highlights of this past year's projects include a youth-organized Anti-Bullying festival in Boyle Heights that used role-playing and skits to demonstrate tactics to counter bullying; a project that resulted in fifteen home-made blankets and 150 snack bags delivered to homeless youth in Hollywood; the removal of invasive plants in Mono Lake basin; and a neighborhood cleanup in Huntington Park.
The inspiration for Changeist came to Fedelin as a 20-year-old, walking around downtown San Jose, contemplating whether he really wanted to go back to school. Fedelin stumbled upon a group of young people performing service work in an alleyway. He approached them and found out that they were part of a group called City Year, an organization Fedelin had volunteered with in high school—and they were hiring. "Within a couple weeks I was thrust into this diverse team and began working on projects in my neighborhood and different cities with these kids that were very different than me. Most were college educated and I had this really amazing year of learning not only technical skills, but also learning about my own biases. That type of immersion changed my life. I signed up for only 11 months and ended up staying 11 years."
His passion for empowering youth to work together to make change eventually led him to Community Partners in 2014, where his social entrepreneurial risk-taking was met with logical guidance. "To this day my program liaison Ravi Shah still reminds me to spend funds thoughtfully and conservatively. He changed my whole approach for the better. At Community Partners there is such trust and sincere guidance; I've found some of the best people here."
While not typically surprised by the compassion and dedication of his Changeist participants, Fedelin was caught off-guard by one recent project. Twenty-five of the project's kids came forward with a desire to help Changeist as it vied for a coveted $100,000 LA2050 grant challenge through the Goldhirsh Foundation, an annual grants competition that depends on public voting. "They thought that Changeist was so important that they all ran individual campaigns in their own neighborhoods and schools," said Fedelin of their efforts that perfectly exemplified the mission of Changeist: taking action for something you believe makes the world a better place. "They gave presentations explaining why we need Changeist," said Fedelin. "They won this grant for us, hands down."
---
Support Community Partners or one of our sponsored organizations.
Donate