What comes to mind when we think of motherhood? Most probably think unconditional love, bonding, and unparalleled joy (with a dollop of sleep deprivation thrown in for good measure.) But that Hallmark version is elusive for some mothers who see that promise of joy slipping through their grasp no matter how hard they try not to let go.
Postpartum depression is a serious issue for one in six new mothers in Los Angeles, but too often goes undiagnosed. Working to bring the issue out of the shadows is a project called Maternal Mental Health Now, a network created about a decade ago.
Los Angeles attorney Kimberly Wong struggled for years with severe postpartum depression. Though she had a partner, was surrounded by friends and family, and had both resources and health insurance, her condition still went undiagnosed due to well-meaning but uninformed providers. Wong eventually did receive the help she needed. But her experience led to the realization that if diagnosis was that difficult for her, despite her resources and privilege, what was it like for those more vulnerable than she? She sought a way to take action.
Wong made cold calls to various departments within LA County to find out if anything was being done locally to address maternal mental health. Cynthia Harding MPH, who was the head of Maternal, Child and Adolescent Health at the time, told Wong that postpartum depression was one of the department's top concerns, but there didn't seem to be an organization spearheading the effort. Harding offered Wong a meeting space if she could round up a group of stakeholders and volunteers to brainstorm a model for an organization.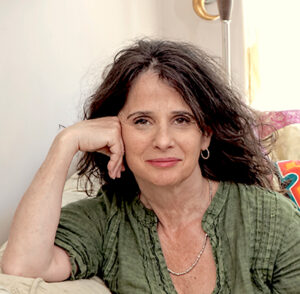 The Los Angeles County Perinatal Mental Health Task Force grew out of that effort, bringing together researchers, providers, hospitals and clinics from both private and public sectors. Responding to the fact that a full 53% of women are not screened for depression at post-partum check-ups, the task force embarked on an education campaign called "Speak Up When You're Down," which included the distribution of pamphlets designed to encourage women to seek help if they are having symptoms of postpartum depression. Printed in both English and Spanish, they were made available throughout the county's hospitals, clinics and child development centers.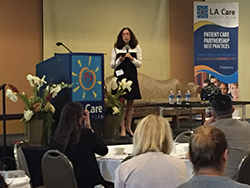 In 2009, the task force joined Community Partners and brought on its current executive director, clinical psychologist Caron Post. "Our relationship with Community Partners has been fantastic. We get so much help in so many realms, from high-level strategic thinking to billing, budgeting and contract management. Everyone is helpful and does a lot of good for us," said Post.
With a name change to Maternal Mental Health NOW, the project is now the leading collaborative in the country that provides training and technical assistance consultations for healthcare and community-based organizations on the screening and treatment of postpartum depression. Thousands of pediatricians, obstetricians, family doctors, midwives, doulas, early childhood education providers, promotoras and mental health providers have been trained by the organization either in person or online through their training institute. Thanks to their advocacy efforts, in 2010 the state of California declared the month of May as Perinatal Depression Awareness Month. Their work also spans into advocacy, public awareness and stigma reduction. It's the public awareness component that remains closest to Post's heart.
"It was very upsetting to recognize the disparities that exist in the world and in our city in terms of having access to (needed) help…To see all of those factors play out in women's and young children's lives is heartbreaking and motivating to try to do something about it."
One of MMH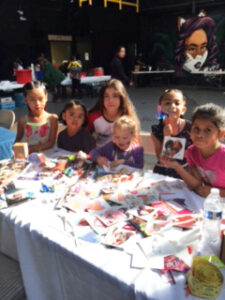 N's groundbreaking efforts is the creation of the Los Angeles County Maternal Mental Health Resource Directory. The first of its kind, the online directory provides lists of providers who have been trained to recognize and respond to women experiencing postpartum depression and anxiety. In addition, every year around Mother's Day MMHN holds a family festival where mothers can receive some pampering, like manicures and massages, and kids can dive into face painting or arts and crafts, and other activities for the whole family. It's a relaxed environment for also offering MMHN resources and facilitated workshops to help moms and dads recognize the signs indicating professional help is needed, and to know that they're not alone.
"Seeing how treatable these conditions are, and seeing a woman who has recovered share her story to help another mom who is struggling, is most meaningful for me," said Post. "The power of these women's stories is what keeps me going."
The month of May has been declared by the state of California as Perinatal Depression Awareness Month due to Maternal Mental Health NOW's advocacy efforts. 
---
Support Community Partners or one of our sponsored organizations.
Donate