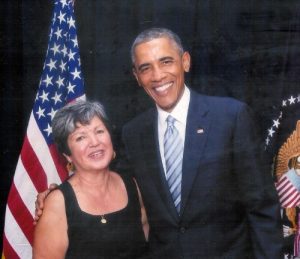 When a group of national and statewide environmental organizations, community based groups and leaders came together as San Gabriel Mountains Forever in 2008, the new coalition had just one mission in mind: to secure the safety and preservation of the historic San Gabriel Mountains. Just six years later, with the help of both Congresswoman Judy Chu and LA County Supervisor Hilda Solis, and with an unyielding focus on the needs and desires of local community members, the coalition saw their goal come to fruition: President Obama designated the San Gabriel Mountains in 2014 as the country's latest national monument.
It was a huge win, but the coalition didn't stop there. They've since expanded their mission to focus beyond the San Gabriel Mountains and changed their name, in many ways as a response to what they heard from community members, explained executive director Belinda Faustinos. "They'd say 'yeah, it's great to visit the San Gabriel Mountains but I can only do that once a month. It'd be great if I could get a park experience in my neighborhood that I can take my kids to.' We've really embraced that."
As Nature for All, the coaliton upholds its three pillars of environmental health and wellness: water, transit and parks under the leadership of veteran environmental advocate Faustinos. She previously served as the executive officer of the San Gabriel and Lower Los Angeles Rivers and Mountains Conservancy (RMC) and the executive officer of three joint entities: the Watershed Conservation Authority, the San Gabriel River Discovery Center Authority and the Los Cerritos Wetlands Authority. Faustinos had her work cut out for her managing relationships with 38 different cities with their own agencies within Los Angeles County.
"It was scary at first, but in the end, that's what I ended up loving most about it. It was a collaborative process and you really had to get people to buy into what you were trying to achieve in their communities. Coming from a bureaucratic background has been an advantage in policy and advocacy work."
It's that community buy in that is so difficult and yet so essential to effecting policy change. Hewing to that strategy, Nature for All has helped to influence several successful pieces of legislation and currently are working on the implementation of the recently passed Measure A, which secured continued funding for open space and natural local water resources, and Measure M, a sales tax to fund a traffic improvement plan. Faustinos stresses that high-need communities are essential to their work and she not only wants to listen, but to empower them to advocate for themselves.
"We want Measure A to meet the needs of park poor communities and we want those constituents to understand what the process is to make their voices heard, how they can get their ideas approved, and how they can make their issues known," Faustinos explained. "We're hoping to create a toolkit that will help facilitate that."  As they work on Measure M Nature for All and its members are working with Metro to create an equitable access Transit to Trails plan, a shuttle service that would make stops at Metro stations and nearby wild parks. The pilot is currently operating in Pasadena with shuttle service from the Merill Park Station to Altadena's Sam Merill Trailhead. "We're looking at transportation through a different lens because what's important to one family is not as important to another."
While the pilot is promising, Faustinos advised that "any major policy shift can take five to 10 years, so you really have to keep the momentum up and the community engaged to support what you're doing." In addition to their volunteer outreach, Nature for All launched their Leadership Academy in 2011 to educate, develop and encourage environmental stewards to care for public lands and to advocate for the protection and enhancement of mountains, forests, rivers, parks, and urban open spaces. A total of 27 Leadership Academy graduates have gone on to work in the environmental space and many continue volunteering with Nature for All. "We've been really lucky that we've had some phenomenal students that recently created a stewards group because after they go through the academy they want to stay on to help with our efforts," she said. "It's great that we've got them so engaged!"
Nature for All puts community at the forefront of any policy advocacy work that they do. Including Leadership Academy graduates, volunteers and community members, Nature for All has brought 702 community members to public meetings. Community members that are constituents of an elected official are always invited to accompany Nature for All during meetings with that official to voice their own issues or concerns for their environment.
Faustino recalled a recent trip to Washington D.C.: "One woman, Lydia, went with us and she said 'I'm so nervous, I just really appreciate being given the opportunity to come.' And I said, 'No, we are grateful to you because you represent what we're trying to achieve and the fact that you're here is indicative that we're doing things right.' She is a symbol of our success."
You can learn more about and meet the members of Nature for All at the Heart of the Foothills CicLAvia event Sunday, April 22.
Nature for All includes: Amigos de los Rios, API Forward Movement (APIFM), Bike San Gabriel Valley (BikeSGV), California Wilderness Coalition (CalWild), The City Project, Climate Resolve, Council of Mexican Federations (COFEM), Day One, National Parks Conservation Association (NPCA), Sierra Club, Trout Unlimited, and The Wilderness Society
---
Support Community Partners or one of our sponsored organizations.
Donate