When the relatively newly organized Arts for Incarcerated Youth Network (AIYN) forged a partnership with the Los Angeles County Probation Department in 2015, it was both a coup, and a challenge. Instead of diving right into bringing arts programming to the youth they were contracted to serve, the six founding member organizations of the network decided it would be crucial to bring an understanding to the staff members themselves, of how arts education could prove transformative to the young people caught up in the country's largest juvenile justice system.
A full day of drum circles, theater exercises, music instruction, writing workshops and reflections was their creative solution, one eventful experimental day curated by all six founding member organizations that incorporated each of their creative disciplines.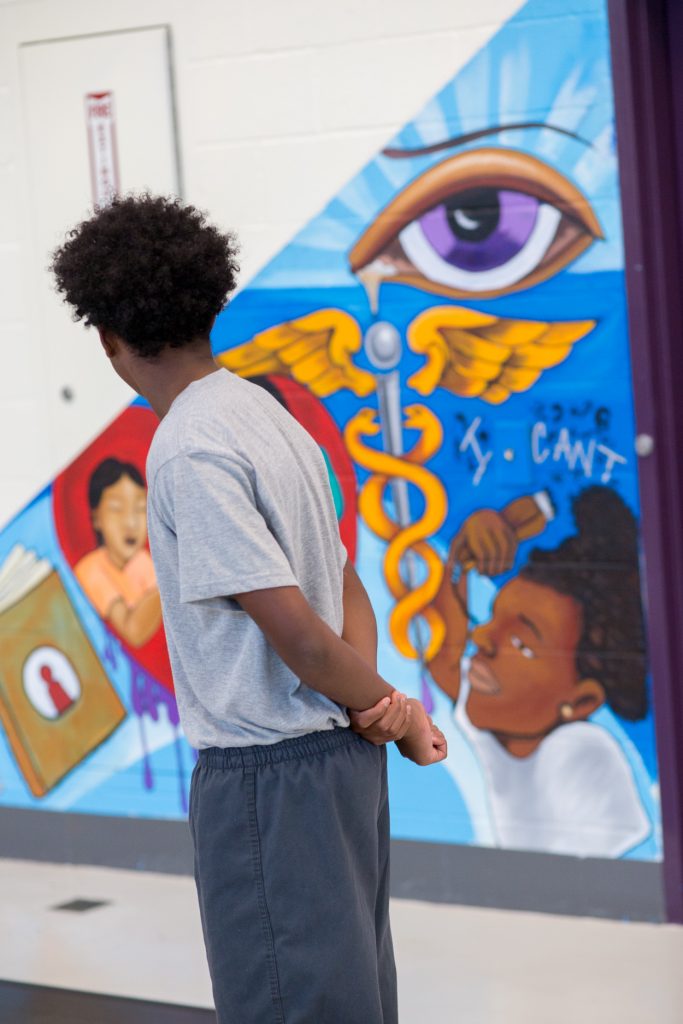 To say the event was ambitious is an understatement, reflects AIYN executive director Kaile Shilling. "When (we all) met to debrief after the training, one of our members said, 'No one of us could have done this by ourselves.' We really had to do this together in order to rise to the challenge of partnering within an agency as large and overwhelming as LA County Probation." And that spirit of collaboration still remains within the network, a fiscally sponsored project of Community Partners that is now home to a total of nine arts education organizations. Members include Community Partners projects WriteGirl and Rhythm Arts Alliance, along with Street Poets Inc., the Unusual Suspects Theatre Company, Gay Men's Chorus of Los Angeles, The Actors' Gang, Armory Center for the Arts, Artworx LA, and Jail Guitar Doors.
Although each of these organizations engage in the arts through different forms of expression, all unite under the network's collective vision of a society that includes the arts as an essential part of civic life and healing, and not as a last resort for rehabilitation. The network ultimately strives to create a pathway into the creative economy for young people of color, a population that is often overrepresented in juvenile detention and underrepresented in the arts.
"Our members were intentional from the beginning that we would not create an organization whose business model is dependent on young people being locked up," says Shilling.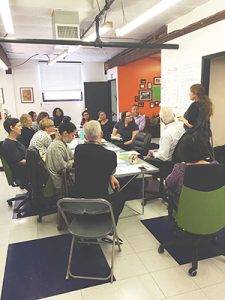 Rather, the hope is that kids who write, direct and perform their own plays in the Unusual Suspects' theater workshops, or learn how to pound their emotions—happy or not—into a drum thanks to Rhythm Arts Alliance's drumming workshops will walk away with a feeling of accomplishment and value. "It's that self-worth that will lead kids down a path they thought was out of reach. If we can highlight our success in creating pathways, that'll help strengthen the case for the investment in the arts in schools and cultural engagement in local communities. Those things can serve as a way to keep kids out of the system in the first place," she added. The network's programming has been well received by youth in probation camps and AIYN has secured a multi-year partnership with the LA County Probation Department—making arts education a foundational aspect of probation camp programming.
AIYN facilitates conversation among the nine member organizations, acquires partnerships with public agencies and attracts funding to help members' arts programming to thrive. Collaborative leadership within a collective of arts-minded organizations is the driving force behind the AIYN and differs significantly from the hierarchal leadership formula that is typical of most nonprofits. It's a distinction Shilling learned a lot about while she headed up the Violence Prevention Coaliton of Greater Los Angeles, a long-time network organization and Community Partners project.
Community Partners has extensive expertise in models of network management and is currently home to 17 nonprofit network efforts. Having witnessed too many networks form and ultimately fail, Co-founder and CEO Paul Vandeventer scribed Networks that Work, regarded as an "indispensable playbook" for anyone interested or involved in harnessing the power of many groups to achieve a shared social or civic purpose.
Shilling spent five years at VPC learning how to navigate leadership among a collective of leaders. "I can't express enough how valuable it was to have the years that I did at VPCGLA. Community Partners facilitated a peer learning network for network leaders, and to have that support and guidance was hugely valuable. It's something I draw on all the time now."
---
Support Community Partners or one of our sponsored organizations.
Donate