"Our analysis is the victims' voices, in numerical form."
They are data scientists and statisticians and they have gained international recognition in the human rights community for shedding the light of truth on mass killings in places like Syria, Guatemala and Chile. One of the most unique projects we sponsor, the Human Rights Data Analysis Group has assisted in successful prosecutions in international courts and in deportation proceedings against some of the world's most notorious war criminals.
Dubbed the 'forensic humanitarian' by the New York Times, founder Patrick Ball's testimony was specifically mentioned in a full court judgement released this week in the case of Chadian President Hissène Habré. The project is currently headed up by Megan Price, who spoke with our summer intern Sarah Greilsamer about new directions for HRDAG, and more.
SG: Tell us about the work you are doing right now. What are you involved in and who is that affecting?
Right now our primary substantive projects involve work in Syria, Guatemala and, for the first time, the US. In Syria, we are analyzing multiple lists of named victims who have been killed in the ongoing conflict, using information about what is known and documented to estimate what is currently unknown and missing from those data sources. In Guatemala we recently completed a short book describing the past ten years of research that we've conducted at the Historic Archive of the National Police and how that information ultimately contributed to expert legal testimony in two court cases in Guatemala.
Here in the US, we've recently begun a project to provide new tools for analysis of US policing. Last year, police killed at least 346 Black Americans. These deaths are part of a centuries-old injustice: people of color face vastly higher risk of death at the hands of police than white people. But we still don't know enough to stop the killing.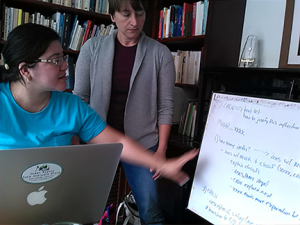 We need better data on police-civilian interaction, and at HRDAG we are working to improve on existing research in three important ways. The Policing Project will collect detailed, representative data on all types of police encounters, with all types of people, in all types of neighborhoods. With this "360 degree" global view, we can look more carefully at the origins of racial disparities in policing, with an eye to solutions. The second way we're improving on research is by counting the uncounted. HRDAG researchers pioneered the use of multiple systems estimation, a statistical technique that rigorously estimates the "dark number" of unreported killings by employing multiple data sources. Nationwide, we estimate that at least 28 percent of deaths in police custody, and perhaps as many as half, go unreported. This is why it's vital to collect multiple data sources. No other research team does this. Finally, we are involving community partners. We can create tools and train citizen scientists in Oakland (our first survey starts there) and elsewhere to collect and analyze their data. When communities are empowered to create and control their own data, they have leverage to push for increased police accountability. HRDAG has a strong track record of partnering with activists around the world.
SG: Your data comes from third parties. How do you ensure data integrity? What are the biggest challenges you face in your work?
We start by relying on our partners, many of whom conduct their own data verification before sharing their records with us. We also look at basic descriptive statistics to get a sense of the data and to identify any records that stand out. This doesn't necessarily point to "bad" data, just data that warrants further investigation to understand.
Our biggest challenges are identifying partners who can share data with us, and processing data to prepare it for analysis. For historical projects, it's not uncommon for data to comprise physical documents or images stored as PDFs or saved on 8″ floppy discs! This requires what we refer to as "data archeology."
SG: Where are you now compared to when you started out? What has changed over the years?
The biggest change is that after years and years of focusing on human rights issues in other countries, we have begun our first US project.
SG: How did you decide that fiscal sponsorship was a right fit for you and why did you join Community Partners? How has your relationship with Community Partners influenced and benefited your organization?
When we spun out of Benetech (another tech nonprofit) we knew we weren't prepared to handle many of the behind-the-scenes operations of our own nonprofit. We knew we needed outside help to handle payroll, insurance, benefits, audits, etc. We started researching fiscal sponsors, and Community Partners looked like (and has been) a great fit! Our relationship with Community Partners has benefited us tremendously by freeing up myself and Patrick, our director of research, to focus much more on the programmatic side of our work and less on operations. Since Suzanne (our part-time administrative manager) joined the team, Community Partners has also influenced us by helping her to better understand bookkeeping and by being patient and available to answer all of her questions. Suzanne wants to give a huge thanks and shout-out to Rick Gutierrez in Finance for all of his help with this.
SG: What are some of your most memorable moments or milestones as an organization?
Some of our most important milestones involve testifying in court cases against those charged with genocide and other crimes against humanity. Our team has prepared testimony for six different court cases, most frequently presented in court by Patrick Ball. Both General José Efraín Ríos Montt, the de-facto president of Guatemala in 1982-83, and Chadian President Hissène Habré were convicted of crimes against humanity. These convictions are extremely important for victims and their families, and represent some of the most memorable moments we have as an organization, that we contributed in some way to help bring justice.
---
Support Community Partners or one of our sponsored organizations.
Donate