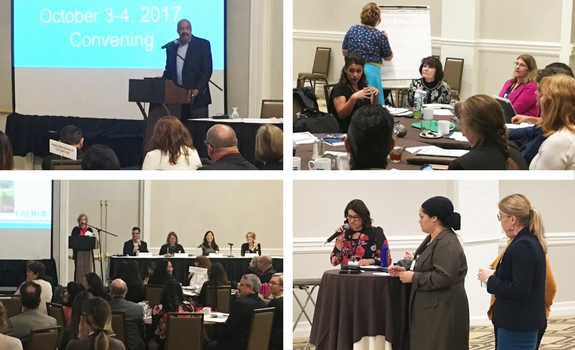 The California Accountable Communities for Health Initiative (CACHI), an ambitious effort to modernize the state's health system and build a healthier California for all residents, is now underway in 15 communities across the state. To help support and strengthen their work, more than 120 people connected to the initiative gathered recently for an inspiring and informative two-day convening.
Community Partners helped organize the event and is proud to be working in concert with the State of California and several other funders to support CACHI, a model that is enabling local communities in Southern California, the Central Valley, and Northern California to solve critical health issues such as heart disease, diabetes, trauma, and promote greater health equity.
The convening offered the opportunity for participants to learn from one another and from experts in the field, and to emphasize the big-picture, system perspective critical to the many partners involved in CACHI.
CACHI goes beyond doctors and hospitals to include nonprofits, schools, businesses and others in working toward a more expansive, connected and prevention-oriented health system. It also emphasizes and promotes the participation and inclusion of everyday residents in all aspects of the ACH, so they are actively shaping this new model for health and, ultimately, determining the health of their communities.
As the intermediary for the initiative, Community Partners serves as a neutral home for CACHI, managing funds and providing guidance and technical assistance to grantee sites.
To learn more about CACHI, the communities involved and what health issues they are addressing, visit CACHI's new website at www.cachi.org.
---
Join our mailing list!
Keep up on the latest from Community Partners—our partnerships, learnings, grant opportunities, resources and more.