Five years ago, a little-used community center on Bon View Ave in Ontario sat adjacent to four acres of empty, weed-ridden land. Without the funds to offer physical activities or other programming to serve local residents, the 'community' part of the center remained elusive. Today, though, that same Dorothy A. Quesada (DAQ) Community Center is a hub for dance, fitness and nutrition classes. And that once neglected lot next-door is now the site of Huerta del Valle, a lush community garden that has sparked an economic and social movement that's making waves throughout the entire city.
So what happened in Ontario? In 2012, the city became part of Kaiser Permanente's Healthy Eating Active Living (HEAL) Zone Initiative, an ambitious funding effort designed to engage residents in collaboration with civic and community leaders to make their communities healthier and more active. Community Partners has served as the organizational intermediary to Kaiser Permanente, helping to guide the development of each of the 10 'zones' across Southern California through ongoing leadership development, providing technical assistance and helping to build residents' capacity to sustain the effort for the long term.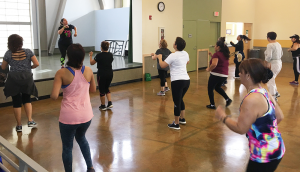 "It's creating safety in our parks, it's creating community connectedness, it's creating health and wellness, mental health is improving, physical health is improving, it's wonderful," says Karen Thompson, associate planner for the City of Ontario. "Friendships are being formed because people are connecting." The DAQ Community Center is one of nine community centers in Ontario that now provide free, one-hour Zumba classes three times a day, six days a week. Seven Ontario residents received Zumba training and certification through HEAL and are now employed as instructors. "We literally wanted people to be able to roll out of bed and be able to walk to a Zumba class or an exercise class.
Secondly, we wanted community members to get involved in HEAL and use Zum Up! to use leadership development as a foundation to teach the instructors how to be a health champion and influence their community," said city partner Evette De Luca, executive director of Partners for Better Health. In addition to creating the seven exercise instructor positions for residents, the HEAL initiative also employs 10 promotoras, Latino residents who are trained in health education and who augment Zumba classes by providing nutrition information and workshops, which also serves as another way to keep residents engaged with new policies and developments within the city.
Community Partners staff members Judy Harper and Arpiné Shakhbandaryan work with the 10 HEAL Zone sites and partner organizations to connect them with resources and champion their ideas to create healthier and happier communities. "Judy's energy is amazing and Arpiné is so wonderful. She used to work for a city in El Monte, so she understands the framework that I work in. Judy has her community advocacy hat, I have my city hat, Evette has her community organizing hat and Arpiné can wear both hats! We're creating a movement, and you come out here and you can see it," said Thompson.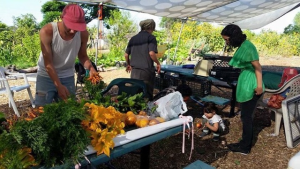 Another integral piece of that movement is Ontario's first community garden, Huerta del Valle. Ontario resident Maria Alonso, facing the realities of living in a 'food desert,' became a passionate advocate for community gardens and eventually caught the attention of City officials. "I had to drive ten miles to buy organic food and it was expensive!" she said recently. "I was sad that I could not feed my family good food." The City of Ontario provided the land, fencing and water for the space that would become Huerta del Valle, and Alonso spearheaded its development.
The investment sparked new economic and food access opportunities not only within the Zone's 1.3 square miles, but throughout the city. Today, the garden offers free nutrition and cooking classes, sells fresh produce at local farmers markets, and maintains several contracts with local restaurants which both supports those local businesses and expands healthy food access in a region where one in three residents is considered to be overweight or obese. Each week Ontario residents visit the garden and walk away with anything from blooms of crisp kale, plump heirloom tomatoes, freshly cut cactus (a staple in Latino homes) and, if they're lucky, a pack of soft corn tortillas: ground, rolled and patted warm right after Maria's cooking class. The organic produce is available to the community for $1 a pound, or for free in exchange for volunteer hours at the garden.
"The HEAL Zone has laid the foundation for all of the work that we're doing," adds Thompson. "I think it's why Ontario has been successful and competitive in receiving additional grant funding and investments from outside funders." But funders are not the only ones who've taken notice of Ontario's successful strategies; Congresswoman Norma Torres visited the garden recently because she wants to adopt the same model in her hometown of nearby Pomona.
Ontario's success is just one of many examples of how Kaiser Permanente's HEAL Zones Initiative is empowering residents around Southern California to make healthy choices easier, more abundant and more accessible in their communities.

---
Support Community Partners or one of our sponsored organizations.
Donate